Gutter Cleaning and Gutter Screens
Total Maintenance Team offers FREE Gutter and Roof Inspections!
Contact Us today to book your appointment for your FREE Roof and Gutter inspection!
Here on the West Coast, it rains. Sometimes it rains a lot. Your gutters are the first line of defense against the potential flooding from Mother Nature's squalls and storms.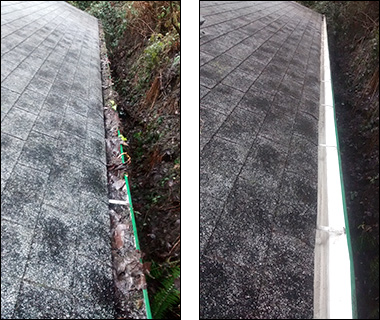 Total Maintenance Team knows that your gutters are an integral part of the roof system of your home.  Your gutters and downspouts act as a catch basin and water dispersing system to help keep all of that moisture away from foundations, walls, fascia boards and access points into your home.
A clogged gutter means the water can't be directed away properly through the downspouts. This can cause a lot of stress on caulked joints, causing breaks in the seal and leakage. Leaks in the gutters can cause rot in the fascia boards, exterior walls or even the roof, damage plants and landscaping, or even collapse the hangers holding the gutters in place.
A little preventative maintenance can go a long way! Total Maintenance Team would be happy to inspect and clean your gutters once a year, checking the slope and ensuring water is still flowing to the appropriate downspout.
Total Maintenance Team uses many methods to clean your gutters, depending on the needs of your system. We use only ecologically friendly, safe products when cleaning your gutters. Our Team is ready to give your gutters the TLC they deserve and clean up is always included!
Gutter Leaf Screens, also known as Gutter Guards, are an excellent investment in your home.
Gutter Leaf Screens can go a long way towards keeping your gutters clear of dirt and debris. Gutter Screens and Gutter Guards go over top of your gutter system, allowing the rainwater to drain through while leaves, twigs or other debris can slide off the top of the screen to the ground below. 
This means there is far less material in your gutters to clog up downspouts or cause blockages – saving you money on your maintenance. 
Gutter Screens will still need occasional cleaning for the material that has accumulated on the screen, but it is faster and easier than digging leaves, twigs, moss and seeds from your downspout!
If you are looking for an All-In-One package for Roof Demossing, Moss Prevention and Gutter Cleaning, Total Maintenance Team is ready to help! We offer complete and comprehensive packages to suit your needs and budget!
Total Maintenance Team is proud to offer Property Maintenance to the following communities of:
Qualicum Beach, Parksville, Courtenay, Comox on Vancouver Island.
We look forward to hearing from you.
David Kelleher, Total Maintenance Team
WorkSafe BC #200887612
Call us in BC: (236) 858-4410